I recently got a request to create Victorian era bunk beds for a friend (and client) who is building a wonderful 1:12 scale Tudor style home from the Victorian period and wanted something a little different. I loved the idea and jumped on the opportunity. While I do create many pieces from scratch, I really don't build furniture, so I had to begin the project with a search for Victorian period bunk beds. Additionally, my client, @jimmy_landers_jhlsignatures, wanted a wrought iron design. Surprise, surprise, I couldn't find anything that would fit the bill, that is until I stumbled upon @TinyIronMiniatures on Etsy. I was immediately enchanted by their selection and guess what they had? Yup, an iron-look bunk bed! I shot a couple picture options over to Jimmy and he loved the antique white bed frame style. Now I was excited! I would get to dress up these wonderful beds with fabulous fabrics, luxurious lace and pretty pillows!
Jimmy created a large, top floor bedroom for the children and envisioned a pair of bunk beds. I knew it would be a few weeks before the beds arrived so I began my search of the Internet for ideas and photographs of how a Victorian bunk bed would be dressed. Every Victorian bedroom I came across was beautiful and opulent, but most of the text I read was quite the contrary. That was especially true when it came to children's bedrooms.
From prior research of various Victorian projects, I knew that private spaces of the era tended to be considerably less ornate, but I was surprised to learn that bedding, particularly in a child's room was actually quite simple even in the most wealthy family homes. I continued to search for images of Victorian children bedrooms, nurseries and playrooms, anything that would help me decorate the beds in a period-appropriate manner. Interestly enough, most of the images I came across were in fact dollhouse creations or, of course, modern ads offering "Victorian inspired" rooms. Not quite what we had in mind. And not one showing a bunk bed in a true Victorian setting. However, I soon discovered a fair amount of Victorian bedroom imagery offered by various museums that showed rooms more in line with what I had read in several articles published in the late part of the 19th Century (generally from the UK). So much for fabulous fabric, luxurious lace, and pretty pillows! Most children's beds were little more than white sheets, pillows, and handmade quilts. That was okay with Jimmy, he wanted it simple anyway.
Since Jimmy's house is called "The 1891", it places it firmly at the end of the Victorian period, during which there was a substantial change in healthy living attitudes and homes. During the early part of the Victorian period, homes in general were decorated with heavy fabrics on sofas, chairs, and even beds and windows. That was not the case in the latter part of the era. Several articles even mentioned pulling bedding off the beds and draping them across the furniture during the day for a proper airing.
The closest thing I found to a Victorian bunk bed was in fact the Cupboard Bed, which actually kinda gives me the creeps. I guess that's my clustophia coming through. So I decided to utilize some artistic license. That is what we do isn't it?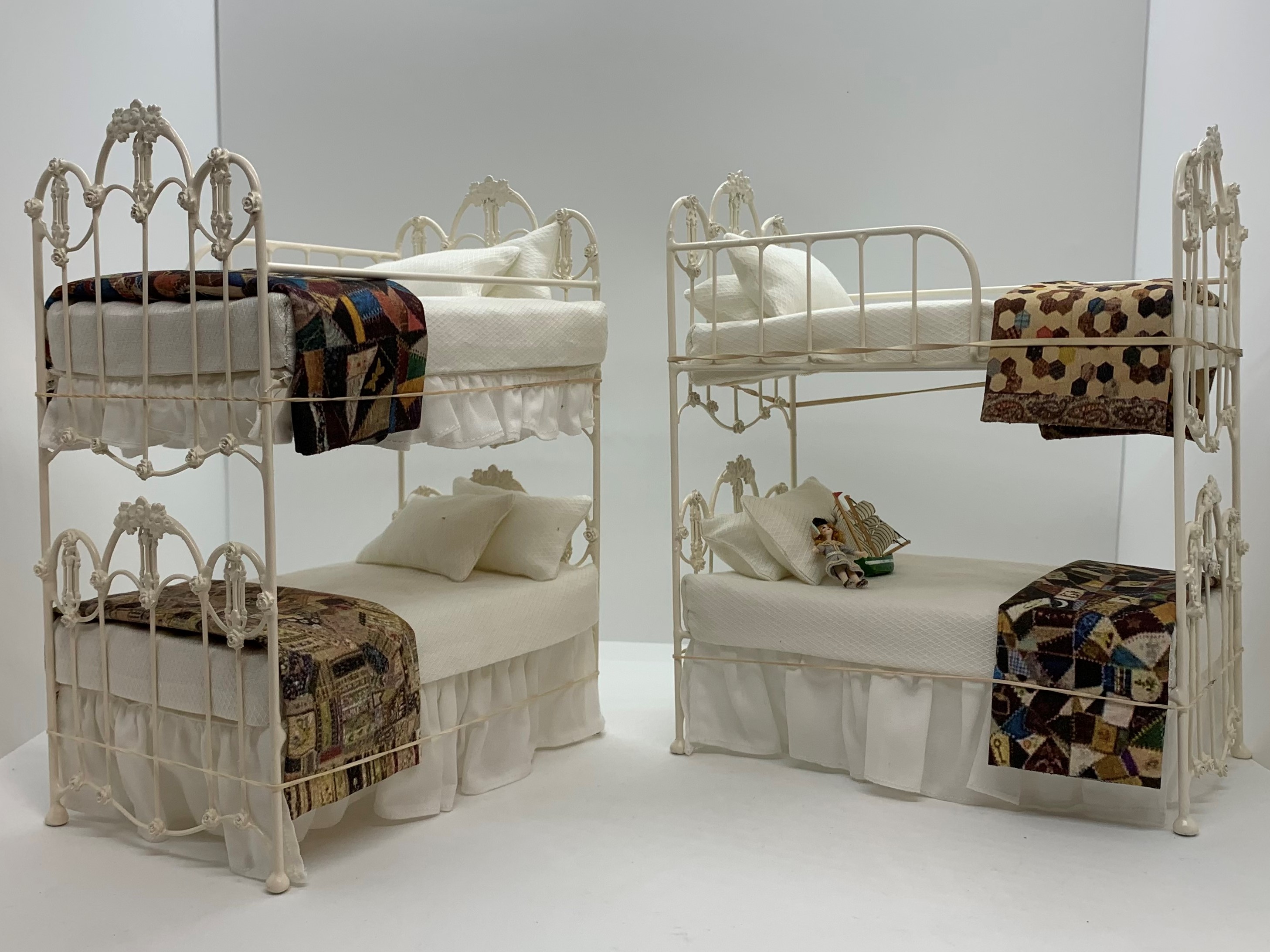 Testing, fitting and comparing ideas
I knew I would have a simple white cotton gathered bed skirt for the bottom bunk, as well as coverlet, quilt and couple pillows (gotta keep that head raised for good breathing while asleep) on each bed. As I designed, sewed, fitted, tested, added, subtracted, and redesigned, I encountered a bit of a challenge with the top bunk. Something just didn't look right. I decided it needed a bed skirt, but it had to be a bit shorter than the one on the lower bunk. Piece of cake, right? Wrong. These sweet miniature bunk beds are made completely in one piece (aside from the ladder) and every joint is nice and solidly soldered. Essentially, the mattress slats are attached to the side rail making it nearly impossible for the skirt to hang from the frame. I stared and fiddled and tested different ways to get a nice drape to no avail. Finally, I resorted to two snips in the fabric that are simply tucked within the gathers. I also added a piece of basswood atop the frame to provide a little more stability to the mattress and the bed skirt on each bed.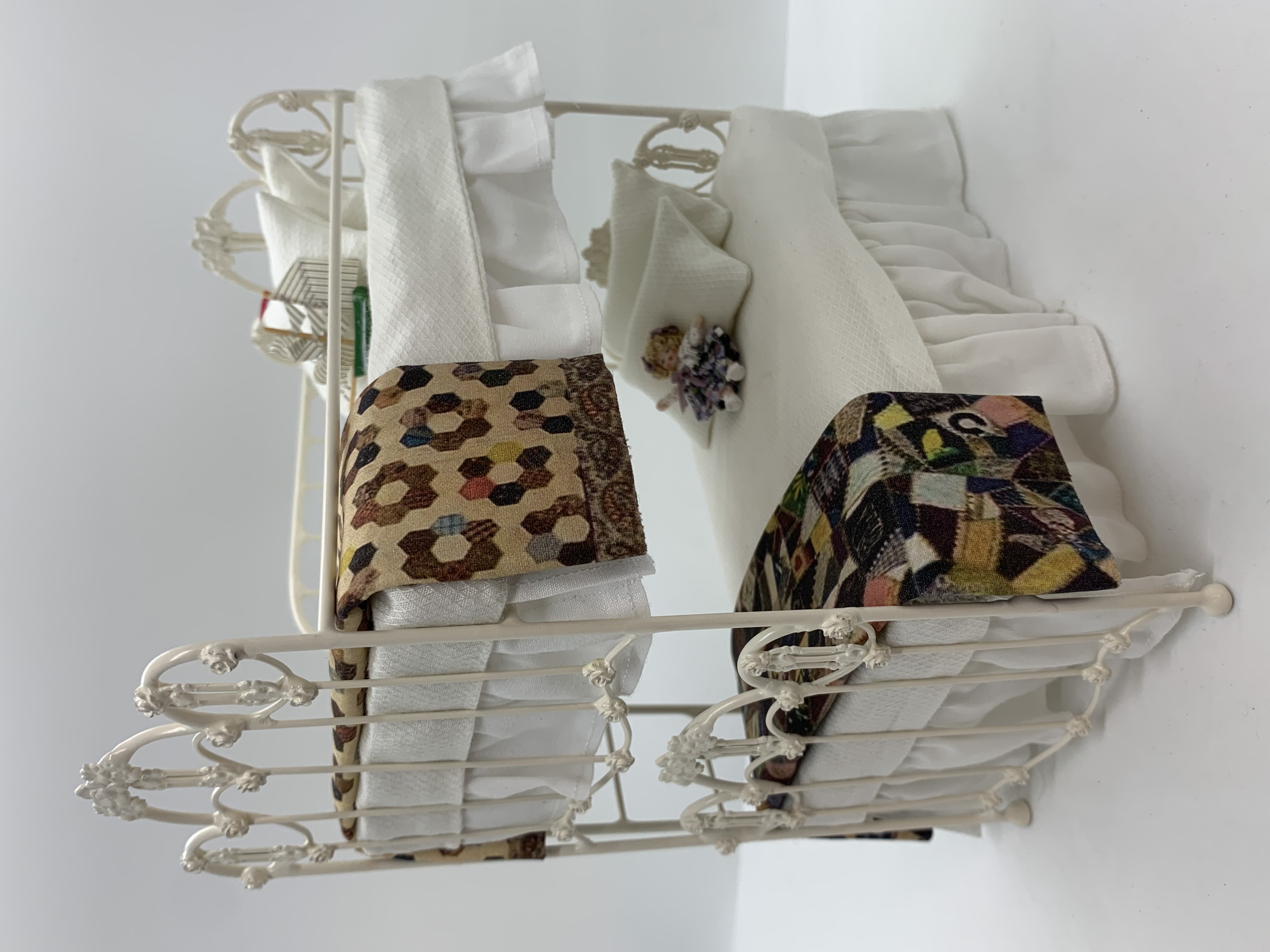 Opposite side of bunk bed
Jimmy and I were pleased with the final result. Be sure to check out @jimmy_landers_jhlsignatures to see them in his wonderful 1891 as well as at the Franklin Historical Museum beginning October 7, 2021. I hope you enjoy!